Robert Green for MTA President - Télécharger la version imprimable / Download printable copy
Evan Leclaire for Vice-President High School - Télécharger la version imprimable / Download printable copy
A passion for public education:
The main reason I am running for this position is that I believe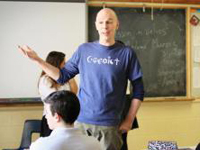 strongly in high quality public education. This means that I believe in you! Teachers are literally the lifeblood of public education. It is no coincidence that countries like Finland that support and empower teachers consistently produce higher achieving students. I believe that I have the knowledge, the activist experience and the media contacts to be a passionate and effective voice speaking out on behalf of teachers and public education.
A time for choices:
Three years ago when I last ran for MTA President I challenged Mr. Sutherland on the exorbitant salary he intended on receiving as MTA President. His response was to state that "you have to pay for quality". It's now time for MTA members to assess whether we have received the kind of quality leadership we were promised. Here's an overview of what the last three years have meant for our union and its members.
Members that are poorer:
Despite union leaders having misled the public about teachers receiving 10.25% in salary increases over five years, the reality is that we only got 5.25%. Even if one includes the amount received due to salary relativity, the most one can truthfully claim we won is 7.65%, far from the 10% needed to keep up with inflation. Because the public was given the false impression that we received a very generous deal, it will be that much harder for us to catch up in the next round.
Teachers having babies are now learning that the previous round of negotiations resulted in a 5% reduction in maternity benefits. Not only were teachers not informed about this at the time of voting, they have not been informed since. A single mother at my school had to discover this from her pay stub.
We will also be poorer because instead of cutting spending the current leadership chose to increase our union dues.
A union that is weaker:
Two of the MTA's most valued employees, John Winrow and Peter McKelvie, have recently both submitted their resignations. This is a major loss for the MTA and its members who have come to rely on John and Peter's extensive knowledge. The fact that John is not even staying on to train his replacement raises serious questions about his treatment as an MTA employee.
Despite being informed by a member whose child suffers from autism about the absence of a clause in our contract on work-family balance enjoyed by almost every other public sector union in Quebec, Mr Sutherland 'forgot' to ensure that it was included in our new contract. Oops!
As members have been reading in the media about investigations by UPAC in the EMSB's Voc Ed sector, the only action our union has taken was to write a letter to the School Board. Despite the serious implications this potentially illegal activity has for MTA members, our President has not even bothered to go into these schools and speak directly with the members affected.
A union that is poorer:
Thanks to the decision to pursue an unfounded and morally questionable lawsuit against a member, the union has wasted tens of thousands of dollars of our money. Had the lawsuit succeeded the MTA would have been awarded close to $200,000. Instead it now must pay $120,000 in addition to what it paid its lawyer. The result will be a drastically depleted contingency fund.
Priorities I have for the union:
Favouring pressure tactics that cost government not teachers! Next time we must work-to-rule!
Working to ensure that if international exchange students are entering our classes, they have the basic skills and resources needed to succeed.
Doing more outreach and visiting schools regularly.
Taking a much harder line in defending teachers from abuse by administrators.
Demanding in local negotiations that the schedules of adult education centres be harmonized in order to help contracted teachers have more choice in their workloads.
Working to improve the recall and assignment process. Other unions do this online. We need to explore such models and find ways to make our own process more transparent.
Holding an extensive consultation aimed at addressing the widespread dissatisfaction with our health and dental insurance.
Fixing a grievance process that is broken. The School Board's consistent pattern of stonewalling our grievances for years must be addressed. Local negotiations are a perfect opportunity to do this!
Working to build alliances with parents. The interests of teachers and parents are the same on many issues. We need to do much more to build powerful alliances that can push for real change.
If teachers at your school have questions, contact me at green4mta@gmail.com to arrange a meeting either in person or via Skype. Together we can make this a union we all feel proud to be members of!
Votez pour Robert Green à la présidence de l'AEEM!
Ma passion pour l'éducation publique
Si je me présente en tant que candidat à la présidence, c'est principalement parce que je crois fermement à l'enseignement public de qualité, ce qui implique que je crois en vous! Les enseignantes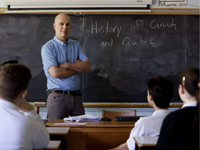 et les enseignants sont littéralement le moteur de l'éducation publique. Ce n'est pas un hasard si les pays tels que la Finlande, qui appuient et renforcent le pouvoir des enseignantes et enseignants, produisent constamment des élèves très performants. Je suis confiant d'avoir les connaissances, l'expérience en activisme et les contacts médiatiques pour devenir la voix passionnée et efficace des enseignantes et des enseignants et de l'éducation publique.
C'est le bon moment de faire des choix
Il y a trois ans, lorsque je me suis porté candidat à la présidence de l'AEEM, je me suis opposé à la demande de M. Sutherland de recevoir un salaire exorbitant pour occuper le poste de président. Sa réponse a été de déclarer qu'« il faut payer pour de la qualité ». Maintenant, il est temps pour les membres de l'AEEM d'évaluer si nous avons reçu la qualité qui nous a été promise.
Voici un aperçu de ce que les trois dernières années ont signifié pour notre syndicat et ses membres :
Des membres plus pauvres :
Malgré le fait que les dirigeants syndicaux ont induit le public en erreur en déclarant que les enseignants ont reçu une augmentation de salaire de 10,25% sur cinq ans, la réalité est que nous avons seulement eu 5,25%. Même si on inclut le montant reçu grâce à la relativité salariale, le plus qu'on pourrait prétendre avoir reçu est 7,65%, ce qui est très loin du 10% nécessaire pour suivre l'inflation. Comme le public a été sous la fausse impression que nous avons bénéficié d'une offre très généreuse, nous aurons encore plus de difficulté pour rattraper l'écart salarial lors de la prochaine ronde de négociations.
Les enseignant et enseignantes qui ont des enfants réalisent maintenant que suite à la dernière ronde de négociations, il y a eu une réduction de 5% des indemnités de maternité. Non seulement les membres n'en ont pas été informés au moment du vote, mais ceci ne leur a jamais été communiqué depuis. Une mère monoparentale de mon école a dû le découvrir en lisant son bulletin de paie.
Nous allons également être plus pauvres car à la place de couper les dépenses, la direction actuelle a choisi d'augmenter nos cotisations syndicales.
Un syndicat plus faible :
Deux des employés les plus appréciés de l'AEEM, John Winrow et Peter McKelvie, ont récemment annoncé leurs démissions. C'est une perte importante pour l'AEEM et ses membres, qui ont sont venus à compter sur les vastes connaissances de John et Peter. Le fait que John ne sera même plus ici pour la formation de son remplaçant soulève d'importantes questions sur son traitement en tant qu'employé de l'AEEM.
Malgré le fait que M. Sutherland a été informé par une membre du syndicat dont l'enfant souffre d'autisme de l'absence d'une clause dans notre contrat portant sur la conciliation travail-famille dont bénéficient presque tous les syndicats québécois du secteur public, M. Sutherland a « oublié » de l'inclure dans notre contrat. Oops!
Nos membres ont pu prendre connaissance de l'enquête ouverte par l'UPAC visant la commission scolaire English-Montréal, et plus spécifiquement son secteur d'éducation aux adultes. La seule action prise par notre syndicat a été d'écrire une lettre à la commission scolaire. Malgré les implications que cette activité potentiellement illégale pourrait avoir sur les membres de l'AEEM, notre président n'a même pas pris la peine d'aller dans ces écoles pour parler directement avec les membres affectés.
Un syndicat plus pauvre :
En raison d'une décision de procéder avec une poursuite sans fondement et discutable sur le plan moral contre une membre, le syndicat a gaspillé des dizaines de milliers de dollars de notre argent. Si le syndicat avait eu gain de cause, il aurait gagné près de 200 000 $. Toutefois, comme cela n'a pas été le cas, il doit maintenant payer 120 000 $ en plus des frais d'avocat. Le résultat sera un fonds de réserve drastiquement appauvri.
Mes priorités pour le syndicat
Favoriser les moyens de pression qui sont couteux au gouvernement et non pas aux enseignants! La prochaine fois, nous ferons la grève du zèle!
Prendre toutes les démarches nécessaires pour s'assurer que les étudiants internationaux en échange qui intègrent nos classes ont les compétences de base et les ressources nécessaires pour réussir.
Faire plus de sensibilisation et visiter les écoles régulièrement.
Prendre une position plus ferme dans la défense des enseignants contre l'abus de la part de l'administration.
Demander, à l'occasion des négociations au niveau local, que les horaires des centres d'éducation aux adultes soient harmonisés afin de permettre aux enseignants d'avoir plus de choix relativement à leur charge de travail.
Travailler sur l'amélioration du processus de rappel et d'affectation. D'autres syndicats font ceci en ligne. Nous devons explorer de tels modèles et trouver des façons de rendre notre propre processus plus transparent.
Tenir une consultation extensive au sujet du mécontentement général envers l'assurance santé et l'assurance dentaire.
Améliorer la procédure de règlement des griefs déficiente. On ne peut plus fermer les yeux face à l'obstruction continuelle de la commission scolaire face à nos griefs. Cette situation déplorable se poursuit depuis des années! Les négociations locales sont l'occasion parfaite pour adresser ce problème.
Travailler pour bâtir des alliances avec les parents. Les intérêts des enseignants et enseignantes et des parents se rejoignent à plusieurs niveaux, et nous devons prendre plus d'initiatives afin de créer des alliances puissantes permettant d'apporter de réels changements.
Si les enseignants et enseignantes de votre école ont des questions, vous pouvez me rejoindre au green4mta@gmail.com afin d'organiser une rencontre en personne ou par Skype (sur l'heure du midi, par exemple). Ensemble, nous pouvons faire de ce syndicat un groupe dont nous sommes fiers d'être membres!

1) Recent articles:
2) Radio interviews
3) Videos
4) Other Articles of Interest